Welcome to Studio Hoekhuis Art & Print
Welcome to Studio Hoekhuis, a gallery/bookshop with a varied collection of art by contemporary artists and graphic designers. In our collection we try to bridge the gap between fine and applied arts, which in some cases, the lines between them can be blurry.
Gallery and Webshop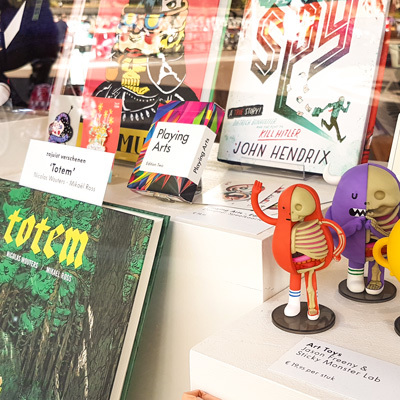 The gallery Studio Hoekhuis can be found in the 'ModeKwartier' ('Fashion Quarter') in Arnhem, the Netherlands. If you are planning for a visit, please read about our opening hours here. Most of our collection can also be purchased online and delivered within a few days, depending on your location.
Print
Printing techniques have been rapidly advancing in the last couple of years, which makes it interesting for artists and designers to freely experiment with a variety of print media. Our collection of print marks this development. Graphic designers like Harriet Wansink, Carolyn Ross and Ivo van de Grift have their roots in digital media and now are taking their work to print. Or they combine old and new printing techniques, like graphic designer Steven Oost.
Paintings
As the sole representative of the fine art of painting, Peter Colstee bears this burden with honor. Colstee's paintings circle around a few recurring themes, portraits, models and still life. The work of Peter Colstee is regularly exhibited in various exhibitions in the Netherlands. We are happy to have a fair amount of his work in our gallery.
Sculpture
It is not uncommon that artists and designers prove themselves in multiple media. The work of Piet Pietersen (a.k.a. 'Zep') spans from illustration, animation to sculpture. In our collection we have multiple sculptures by Pietersen, like 'Sunqueen' and the 'Cosmic Kids'. On the other end of the spectrum, we have the 'woven art' by artist Peter Maria R and the life size cardboard animal models by graphic designer Peter van der Gulden.
Artbooks and Graphic Novels
At Studio Hoekhuis we love graphic novels and books about art, design and pop culture. We're always on the lookout for new and exciting titles. We are especially happy with the collaboration with Soul Food Comics, bringing us the best of graphic novels here in the Netherlands. Take a peek at our book collection, visit the section 'Boeken & Graphic Novels' (Dutch).